Assisted in litigation of stakeholder claims asserted in Delaware courts arising from U.S. settlement with the Peoples Republic of China (PRC) regarding expropriation of the property of the Shanghai Power Company, which held the franchise to supply electricity to the foreign community in Shanghai from the mid 1920's until 1949. This was the largest single U.S. private claim certified against the Peoples Republic of China
Assisted with financing of the Susquehannah Nuclear Generating Plant for Pennsylvania Power & Light Company and the Grand Gulf Nuclear Power Plants, Mississippi, tandem generating units of the Middle South Utilities System.
1977
In 1977 joined the law department of the Otis Elevator Company, subsidiary of United Technologies Corporation. Managed, as in-house staff counsel, Otis Elevator defense dockets for elevator personal injury and unjust imprisonment claims, working with local counsel and insurers.
Represented Carolina Power & Light Company, under French law, on contractual claims arising from disputed uranium supply agreements.
Successfully managed a major defense of a claim arising from personal injury allegedly arising from a defective forklift truck manufactured by former Otis subsidiary, Baker Linde, in U.S. Federal District Court, Northern District of Virginia.
1979.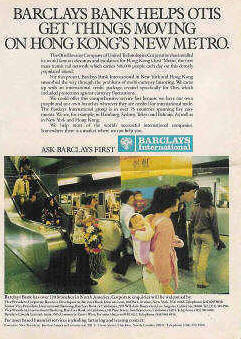 Negotiated supplier financing of Otis escalators and elevators for Hong Kong Metro mass transit system then under construction (1979) with Barclays Bank. This transaction involved innovative multiple currency receivables financing, as used by Barclays in trade advertising.
Responsible for worldwide (offshore) labeling matters for Sterling Drug Incorporated from 1979 to 1994. Its most well known product was Bayer Aspirin.
Managed the legal affairs of Sterling Drug Incorporated in Australia / New Zealand from 1979 to 1988, including product promotion and litigation matters. Sterling was a major player in Australia and New Zealand with Panadol, its popular acetaminophen pain reliever, Phillips Milk of Magnesia, Rx pharmaceuticals, and other branded products.
1982
Managed Sterling's successful defense of claims relating to administration of poultry vaccines, other veterinary products, in Ontario, Canada. Also managed claims asserted by employees as regards employee rights and prerogatives, career development, etc.
1985
Responsible for Sterling's major joint venture relationships (legal aspects) in Japan (Rx pharmaceuticals, Lysol product portfolio).
1987-1988
Managed Sterling's product promotion claims against competitors Australia and New Zealand, which resulted in victorious assertions of exclusive aspects of Sterling's product advertising and promotion.
1988
Became Vice President, Legal Affairs for Sterling's "JCAP" region (Japan, Canada, Australasia, and Pacific Rim).

Sterling was acquired by Eastman Kodak Co. in a friendly takeover.
Oversaw Sterling's participation in the Canadian royal commission inquiries over the Ben Johnson doping scandal.

1988-1989
Managed Sterling's suit challenging Canadian compulsory licensing legislation with respect to a drug then under development. Collaborated with leading Canadian IP counsel in Montreal.
Participated in pharmaceutical industry groups negotiating with the Canadian government as a prelude to U.S.-Canada adoption of NAFTA in relation to protection of intellectual property interests..
Negotiated settlements with estranged local joint venture shareholders resulting in Sterling's recovery of an entire interest in and liquidation of, its consumer product joint venture in Korea. This project also entailed management of a settlement with a competing pharmaceutical multinational as regards unauthorized competitive product disparagement. Complaints lodged against the Sterling JV under Korean Fair Trade laws.
1989
Became Vice President - Legal Affairs, Sterling International Group, with executive responsibility for all legal matters abroad and extraterritorial U.S. legal compliance. Supervised staff attorneys in New York, London, Hamburg; coordinating with domestic legal staff and Kodak attorneys.
Personally advised on, negotiated Sterling's divestiture of its pharmaceutical manufacturing interests in Peru, responding to terrorist ("sindero luminoso") threats at a time of grave local uncertainty.
1991
In 1991 Sterling's businesses were combined in strategic alliance with those of Elf Sanofi, S.A. (now Sanofi-Synthelabo S.A.). Represented Sterling, Kodak in negotiation and implementation of this mega-alliance involving business reorganizations in over 100 countries throughout the world, utilizing outstanding local business counsel in foreign jurisdictions. Acted for Sterling in staff proceedings before the European Union (Competition Directorate), in Brussels.
1992
Initiated Sterling Winthrop claims against Iraq under the United Nations Compensation Commission ("Food for Oil" program)
1993
Directed formation of consumer health joint venture in Peoples Republic of China for Sterling Winthrop Inc.
Assisted in alliance acquisition of a controlling interest in Chinoin MV, the largest Hungarian pharmaceutical manufacturer, from the Hungarian State Property Office.
1994
In 1994 Sterling Winthrop (as it was then known) was broken up, distributed to global enterprises such as SmithKline Beecham, Bayer Corporation, Elf Sanofi S.A., Nycomed (Norway; most recently Amersham Nycomed, of the UK, in process of acquisition by General Electric). Directed Sterling Winthrop international legal personnel (including foreign postgraduate law candidates serving as temporary staff) at the request of Kodak, in providing support to transaction outside counsel (both sides) and in-house coordination for these transactions, i.e., due diligence, implementation, support to parent companies.
1996
Represented Kodak for joint venture transition matters in Korea (photography).
1997
Successfully represented American Home Products Corporation (i.e. Wyeth) regarding Makhteshim (Israel) patent infringement with respect to its American Cyanamid herbicide line (subsequently divested to BASF) under the Trade Related Intellectual Property ("TRIPS") WTO agreements in Brazil, Argentina, Paraguay and Mexico, utilizing leading counsel outside counsel in Buenos Aires, Sao Paulo, Rio de Janeiro and other jurisdictions. This matter involved representations to President Clinton and Commerce Secretary Daley in relation to safeguarding of US intellectual property interests.

1998
Assistance with contracting matters related to major entertainment interests in the United States.
1999
Supported establishment of an international collaboration between a U.S. inventor/entrepreneur (Indian national) and a Swiss manufacturer, relating to establishment of a new global business providing innovative product support to the pharmaceutical research community.
2000
Directed completion of consumer products joint venture for SmithKline Beecham plc.
2000-2001
Served as in-house consultant to Taro Pharmaceuticals U.S.A., Israeli generic pharmaceutical enterprise (2000-01) in connection with general product licensing, manufacture, and international distribution matters, including joint development agreements with YISSUM, Research Development Company of the Hebrew University of Jerusalem.
Directed completion of consumer products joint venture for SmithKline Beecham plc. (2000); currently rendering follow-up services and other support for this and other consumer healthcare projects.
Direct staff and consultative support to the international legal department of one of the top 5 worldwide pharmaceuticals manufacturers as it integrated and consolidated its operations after merger. This consultation has involved direct management of this company's consumer product franchise development (legal aspects) in China, including Macau and the autonomous region of Hong Kong, development of litigation management policy, and revisions of trading relationships in both Rx and Consumer Health fields.
2002 to present
Followed Sterling Winthrop claims against Iraq under the United Nations Compensation Commission ("Food for Oil" program) through to conclusion on behalf of successor in interest Glaxo SmithKline plc. (2002-04).
Contributory legal services to the following local Pennsylvania organizations: